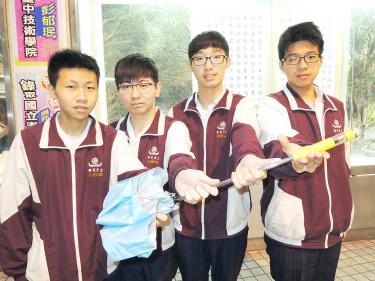 Students from Chih-Kwang Senior Vocational Business and Technology High School in New Taipei City on Monday hold an umbrella they designed that includes a can of mace in its handle for self-defense purposes
Motivated by the stabbing rampage on Taipei's MRT (local metro/tube public transport) system last year, students in Chih-Kwang Senior Vocational Business and Technology High School's multimedia department came up with the idea of turning an ordinary umbrella into a self-defense weapon by adding a can of mace inside it's handle.
During a graduation exhibition this week, students at the New Taipei City school said they have developed a "multipurpose defensive umbrella."
Student Fei Chun-chi (斐俊期) said that many people are concerned for their safety if taking the MRT since last year's stabbing rampage, and that most MRT passengers are not well enough equipped to defend themselves against potential assailants. Fei said the students' goal was to equip everyday items with self-defensive capabilities.
Four people were killed and many injured on May 21 last year when 21-year-old Cheng Chieh (鄭捷) began stabbing other MRT passengers as their train traveled from Jiangzicui Station to Longshan Temple Station.
Student Huang Ssu-kai (黃思凱) said the group had originally thought of hiding a cone-shaped blade in an umbrella handle to "combat violence with violence," but MRT regulations bar passengers from carrying any weapons.
As the goal was to deter an assailant, not to cause any further harm, the students thought of making an umbrella handle into an extendable baton.
"However, if the user was under stress, they might fumble and not be able to extend the baton" Huang said.
After some more brainstorming, the students finally came up with the idea of installing mace spray into the umbrella handle, which would hopefully allow users to fend off an assailant's advances with the umbrella itself, as well as using the mace to disorient the attacker and buy time for police officers to arrive.
The students said they were looking to strengthen the umbrella's fabric as well as reinforce its frame, while trying to keep the umbrella as lightweight as possible.
"We hope to produce something that will truly combine the utility of an umbrella while meeting the need for a self-defense tool," the group said.